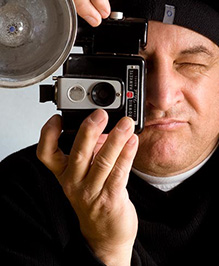 I listen......I interpret.......I deliver.
My intention is to make a difference, make an impact and make you respond.......Photography is what I do everyday with passion and care, to make a difference and to touch others in this life. I strive to over-deliver and exceed my clients' expectations.
The camera is a part of me, like my hands. My hands have a direct line to my heart. The heart possesses an innate ability to know what is needed at any moment, if only one can listen. I listen. My aim then, is to bring together the visual elements in question -- to record a moment or to create a moment, that otherwise would be lost or never found.

For over 25 years I have been fortunate to earn a living as a professional photographer working for individuals, small businesses, and multinational companies. I'm a location photographer and I enjoy travelling to wherever the work takes me. I have worked across the globe in he USA, South America, Europe, Central America, and Canada.
John Narvali, CAPIC A Toronto, Ontario, Canada-based photographer working iboth in the studio and on location in the areas of public relations, architecture, commercial, industrial, product, and corporate portraits, for use in ads, magazines, trade publications, annual reports, brochures, websites, and more.
Testimonials

A magic eye with charm and style to boot. his warmth immediately puts you at ease. His magic eye immediately captures you at your best. The results are pictures you are proud to display

Howard Lichtman
President, Lightning Group Toronto
One of the reasons John is so successful as a photographer is because he knows how to engage with all types of people. We keep hiring John over and over again because our customers love him. His personality is such that people are comfortable with him and the resulting photos are superb.

Ann Turner V.P.
Eastman Kodak Company, Rochester, New York